BUSINESS MUSIC DONE RIGHT
MixHits have put the fun back into music. It's the better way to deliver music to your business, with custom crafted commercial and talk-free stations for your business. Larger retailers have the ability to work with custom formats and branded radio. MixHits combined a handful of background music veterans with a few savvy internet executive and built the MixHits radio network from the ground up.
OUR CLIENTS
We encrypt and stream our music over the internet at 128 kbps from our dedicated servers located in 3 datacenters spread out across the country. Our proprietary technology is built into every Mixhits Radio Internet Receiver. We utilize a restricted operating system and encryption keys to keep your network safe. Depending on the level of service your business selects you can select up to twenty formats from the front panel of our player and play different music in multiple zones from a single iStream2. The iStream2 can also mix in messages or be used for an on-hold message player. Only need 1 zone – we've got you covered with the iStream1. Both the iStream1 and iStream2 are 100% solid state media players and made in the USA. They contain no moving parts providing an extended life.
OUR TECHNOLOGY
Some of the worlds biggest names trust Mixhits Radio including Dunkin' Donuts, LL Bean, Ferragamo, Ninety-Nine Restaurants, Dairy Queen, McDonald's, Burger King, Bad Daddy's Burgers and more. It's time to add your brand to the list and start listening.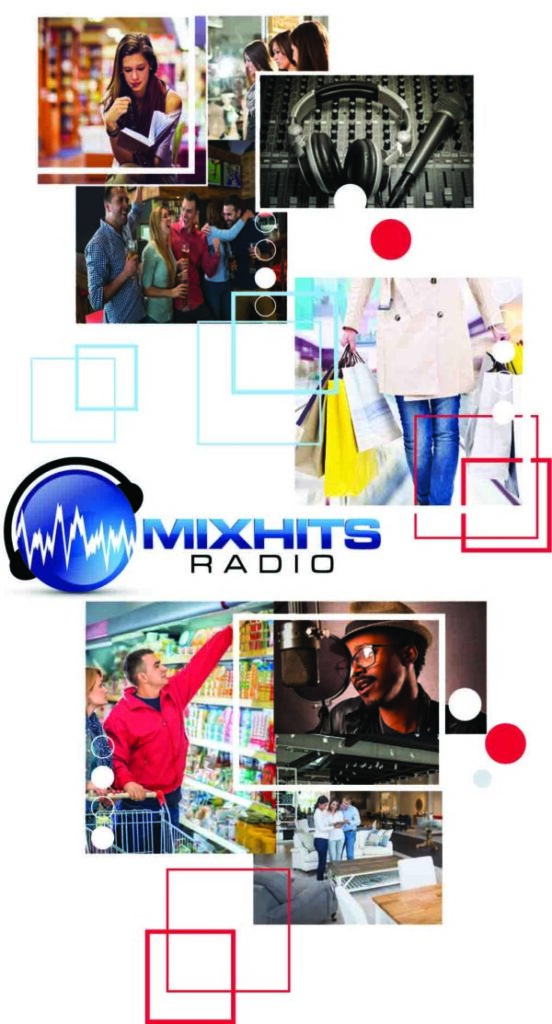 Decades
The biggest hits of the 70s, 80s, 90s, 2000s and today. This channel features the most recognizable and sing along pop hits that are sure to please any age. Perfect for large retail and grocery stores.
Pop Hits is an upbeat blend of today's hits and yesterday's classics. Pop Hits, our most popular format, focuses on a family-friendly blend of fun and familiar pop pieces that will please all ages.
HIT IT! is a high energy blend of today's hottest hits and the best uptempo and energetic music from the previous decades. Great for gyms and other high energy businesses, Hit It! Will get you
moving.
All the hits and nothing but the hits. Power Hits plays the latest hits from the last 3 years. Power Hits is more repetitive than standard formats and contains suggestive lyrics that some listeners may find offensive.
Teen Scene is a safe, family-oriented pop format geared towards older children and teens. Teen Zone blends current chart toppers with an offering of the most beloved music loved by young audiences from the last 10 years.
A specialized, eclectic mix of today's best College, Indie and Alternative Rock with crossover EDM and Urban Alternative rounds out this 20-Something playlist that is sure to entertain any college town bar and grill.
Relive yesterday's classic and traditional sounds of country music. Featuring legends like Dolly Parton, Conway Twitty, George Jones and Buck Owens, Country Classics features the greatest country from the 60's-80's.

Classic Rock
I wanna Rock! Classic Rock is a collection of the greatest rock hits from the 60's 70's and 80's. From Zeppelin to The Who, The Stones, and Van Halen, Classic Rock brings you back to the ultimate Rock period.

Totally New Wave
Take a journey back to the greatest Alternative – Pop hits of the 80's. Featuring the likes of The Cure, INXS, Depeche Mode, The B-52's and more. Travel back to the days when music videos were king.

Throwback
Throwback is a blend of the best Hip-Hop and Urban genres ranging from the last three decades. Throwback contains suggestive lyrics that some listeners may find offensive.

The Coast
Mix together today's soft pop hits with a large selection of timeless familiar classics and you'll take a ride along The Coast. A soft adult contemporary blend of easy to enjoy music.
From The Cure to Nirvana, classic Alt incorporates the greatest Alternative music from the 80's and 90's all in one place. A mix of genres such as grunge, new wave, and punk are all present.
Hit the gym and "burn" those calories to this consistent high energy and an extremely uptempo mix of yesterday and today's Pop, Dance, Remix (and occasional Rock) body movers and shakers.
The perfect bar rock music mix from the 80's to today. Containing a blend of pop rock hits and a splash of today's top pop favorites, Pub Grub sets the mood and keeps the drinks flowing and the pub jumping.
Ultra safe Pop music from the last 20 years. "The Safe Zone" features no lyrics or content related to sex, violence, weapons, alcohol, drugs or any other questionable material.
The Playground specializes in creating a kid-friendly environment. Children will hear songs from their favorite movies and TV shows, sing-alongs, and current pop favorites.
A family-friendly blend of current and recent Christian Pop hits. This format features a blend of familiar artists such as Hillsong United, Casting Crowns, and Toby Mac.
Pop country blends today's top country superstars with a mix of country from the last decade. This format is designed to create a fun, upbeat mix of country music from the last twenty years.

Blues
From the Mississippi Delta to Chicago, St. Louis, Texas and beyond, Blues celebrates the rich soulful history and current musical expressions of one of America's most influential genres.
Generation X is like a totally 80's mix. Flashback to a decade of big hair, parachute pants, Atari, and Rubix Cube. A mix of music that returns you to the 80's pop culture.

Discotheque
Dust off those "Boogie Shoes" and get down to the unforgettable Disco-Dance hits of the 70's and 80s. The mirrorball is spinning and the floor is lighting up to uptempo classics.

Eight Track
The best of the 60's and 70's come to life on 8-Track. You'll hear all of your favorite bands and one-hit wonders on this timeless format. Take a trip down memory lane with 8-Track.

Soda Shop Juke Box
From Elvis to Doo Wop, celebrate the first 10 years of the "Rock n' Roll" era. Soda Shop Jukebox features an upbeat mix of the greatest "golden oldies" from the 50's and early 60's.

The Rat Pack
"Swing" into fun with Frank, Sammy, Dino, and friends. This 100% vocal, lounge experience features a mid to up-tempo blending of yesterday and today's most legendary crooners singing the classic standards.
Java blends the best of today's contemporary singer-songwriters, acoustic covers and light to mid-tempo, eclectic Folk and Rock to match a true, genuine Coffeehouse experience.

South Beach Chill
A luxurious and posh collection of downtempo electronica, lounge, acid jazz, world and chill music. South Beach Chill is the perfect compliment to upscale and swanky bars, restaurants, lounges.
Sophisticool is an eclectic mix of yesterday and today's "sophisticated" melodies. The blend features standout artists from such genres as pop, urban, singer-songwriter and adult alternative.

Easy Jazz
A smooth blend of instrumental and vocal jazz. The Easy Jazz mix contains approximately two-thirds instrumental and one-third vocals. A perfect mix of smooth jazz that's easy to enjoy.

Contemporary Instrumentals
Featuring a fresh and modern take on the smooth side of Jazz and New Age. This 100% instrumental experience, offers a rich blend of acoustic and brass sounds mixed with sophisticated synthesized selections.

Relax
Layback and unwind with this eclectic mix of acoustic and electric piano, guitars, drums, flutes and synthesizers from around the world This New Age collection is perfect for massage and spas business locations.

Lite Classical
The most important and well-known pieces of instrumental classical works from multiple musical periods. Lite Classical features the world's most popular and timeless Classical composers.

Swing
From the classic to the ContemporarySwing gets you moving to the rhythmic and mid uptempo, brassy jazz sounds which has gotten the world dancing for nearly a century.

Lite n' Easy
Lite N' Easy features the greatest soft hits off all time. Perfect for the calming business or restaurant setting. This timeless blend features the best of vocal superstars such as Celine Dion, James Taylor, and Air Supply.
A soulful journey through the greatest R&B music from the 60's through the 80's that features the best of Motown, The Philly Sound and features legends such as Aretha, James Brown, Al Green and Earth, Wind & Fire.

Little Italy
You'll "Mambo Italiano" to this small collection of traditional Italian music designed to create a unique Italian restaurant dining experience. That's Amore! Note: This format is highly repetitive.
Enjoy a night in the big city with this sleek, sophisticated and eclectic blend of contemporary and classic Pop, R&B, Standards, and Jazz. You'll hear such artists as Basia, Esperanza Spalding, and Simply Red.

Invogue
Enjoy a trip down a fashion runway. InVogue is always in style as it effortlessly blends an affluent and cosmopolitan mix of today's Electronic, Trip Hop, Dance, Acid Jazz and Urban genres.
A soft and relaxing vocal blend of the best seventies and eighties Classic and Folk Rock featuring artists including Chicago, Elton John, Eric Clapton, Fleetwood Mac and Jim Croce.
With a unique, mature and eclectic mix of unfamiliar Adult Album Alternative, Acoustic and Folk Rock with a splash of deep Classic Rock, Earth offers a one of a kind retail environment.

Reggae Vibes
Celebrating the greatest in Reggae Music, Reggae Vibes blends the classics from legends with new and contemporary favorites and rhythms. May contain suggestive lyrics.
Latin blends the biggest chart-topping Spanish language Pop, Rock, Dance and Love Songs from the last 5 years. You'll hear artists such as Prince Royce, Mana, Pitbull and Enrique Iglesias.

Que Buneo
A regional Mexican mix of contemporary and classic music styles including Mariachi, Ranchera, Tejano, Banda, and Norteña. Que Buena features the likes of Jenni Rivera, Juan Gabriel, Calibre 50 and more.
'Tis the season. Create the perfect holiday atmosphere with this mix of the best holiday favorites performed by the original artists and today's top singers. Pop Holiday features other seasonal blends throughout the year.
Jazzy Holiday blends the best Smooth and Classic Jazz songs of all time. The mix is part instrumental and part vocal and features the best seasonal and festive cuts from artists such as Anita Baker, Chris Botti, and Dave Koz.
Flashback to summer days with this fun and upbeat mix of beach music. Enjoy the smooth sounds of Pop, Reggae, Rock and Oldies featuring such artists as The Beach Boys, Jimmy Buffett, and your favorite summer songs.
A seasonal mix of music. Enjoy music tailored for holidays including St. Patricks Day, Easter, Memorial Day, Independence Day, Black Music Month, Summer Vacation, Halloween, and Christmas.